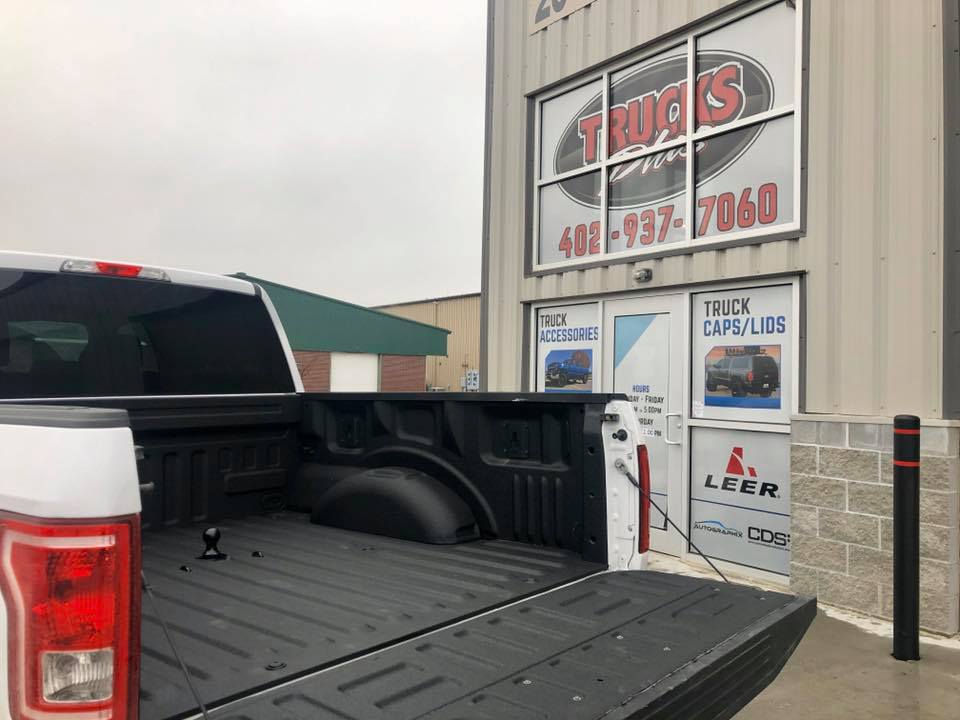 One of the area's best truck accessories & window tinting stores in Omaha, NE was originally founded as Midwest Linings in 2004, at the time offering predominantly professional-grade, spray-on bed liners for trucks. Shortly after, Trucks Plus realized our customers demanded more in the way of protection for their trucks like ceramic window tint, as well as other truck accessories. Shortly after, Trucks Plus realized our customers demanded more in the way of protection for their trucks, as well as truck accessories. In response to their needs, Trucks Plus Omaha expanded product offerings in total vehicle protection to include truck undercoating, truck sound barriers, rust, paint and truck interior protection packages, plus other truck accessories all fully insured with nationwide warranties.
In addition to truck protection, Trucks Plus is the exclusive authorized distributor of LEER truck caps and tonneau covers in Omaha, Lincoln, and Council Bluffs. Trucks Plus also carries a full line of truck accessories such as vent visors, truck window tinting, truck running boards, mud flaps for trucks and more, all manufactured by some of the most reputable companies in the industry. We are also factory-trained master installers of solar guard window films and clear bra paint protection films.
At Trucks Plus, quality and workmanship is our number one priority. Our sales team and professional installers are hand selected and all share the same commitment to excellence instilled by our founder. We demonstrate this each day through the quality of workmanship performed on every vehicle, whether it be installing accessories or window tinting. Because of this passion for excellence, we are one of a select few of preferred vendors aligned with the largest automotive and truck dealerships in the area.
Trucks Plus does business with honestly and integrity, which in turn has allowed us to achieve and maintain an A+ rating with the Better Business Bureau. We look forward to servicing any of your vehicle needs in the near future.
Give Trucks Plus a call today or stop by our shop to find out more about us!
AMP RESEARCH is an American design and technology company, located in Tustin, California, that invents, builds and markets products designed to improve the function and utility of cars, light trucks and SUVs. The company's motto, "Innovation in Motion™" captures the eclectic mix of breakthrough products AMP Research has brought to the market since its founding in 1980.
Daws Better Built truck tool boxes are dedicated to quality. Being a family owned company, Daws Better Built understands traditions and community lifestyle. Better Built truck boxes are made up of aluminum making them one of the most durable truck tool boxes on the market today. Known for their top-quality tubular products using stainless steel, Daws Better Built truck tool boxes are built for the long haul.
Dee Zee has been a staple brand in the truck accessory market since 1977. Dee Zee's products sustain the worker, the weekender and everything in between. Their extensive product lines are built with you in mind. They recognize your need for durable, functional, and stylish products to keep up with your hectic pace.
Extang was first to introduce many of the styles and features that are prominent in the tonneau industry today. Since 1982, Extang has led the industry with innovation, quality products, the best warranties and customer support.
Founded back in 1988 and based in Winfield, Kansas, Husky Liners® proudly makes automotive aftermarket products designed to protect your ride inside and out. At the core of our wide product line are the Husky Liners® brand of custom-fit floor liners, including front seat, rear seat, and cargo area.
Founded in 1965 and with roots dating back to the 1930s, Lund International started in Anoka, Minnesota with an ambitious mission: To lead the industry in meeting customer needs for automotive accessories. Lund International is now one of world's leading automotive accessories providers offering functional, high-performance, protective and stylish products.
Luverne Truck Equipment has manufactured quality truck accessories since it began operation. Luverne Truck is nationally-known and respected for their quality grille guards for trucks and vehicles. All of their grille guards are made from high quality stainless steel, anodized aluminum and power coated mild steel. Luverne Truck Equipment is durable and built to last through all of the adventures your vehicle takes with you.
N-FAB is the industry leader in quality Nerf-Bars, Pre-Runners and other Off-Road accessories. They design and manufacture the best looking, strongest, and most durable Nerf-Bars available in the industry today. With over 400 models, N-FAB has the most complete and extensive line of Patented Nerf-Steps on the Market, which are available in a vast variety of finishes.
Prime Design has been the industry's ergonomic leader since 1992. They were the first to introduce the concept of the ergonomic ladder rack. To this day, Prime Design is the leading innovator of ladder storage solutions for fleet vehicles. Prime Design's ladder racks were made to help reduce back and muscle strain while loading a ladder while also keeping feet safely on the ground.
ProMaxx Automotive offers quality aftermarket accessories at great prices. ProMaxx Automotive Accessories are available exclusively through Meyer Distributing Authorized ProMaxx Retailers. Their goal is to provide value-driven auto accessories that focus on quality, affordability and functionality to satisfy a wide variety of needs.
Ranch Hand grille guards are found on vehicles all over the nation today. Ranch Hand started small and has since developed into a large-scale operation. At Ranch Hand, the focus is driven on staying true to their roots. All Ranch Hand grille guards are built to last and can withstand some of nature's roughest terrain.
Since their introduction in 2004, Raptor Series has set the standard for quality, craftsmanship and customer loyalty. Their 3 stage quality control program guarantees you get the best product the first time, every time. Raptor products are proven to be a valuable addition to your truck.
ReadyLIFT® Suspension Inc. was founded in 2006 on the principals of developing a line of economical yet innovative suspension leveling products that would allow Truck and SUV owners to be able to "level" their vehicle in order to install Plus-size wheels and tires.
Stampede Automotive Accessories was founded on the idea of designing and manufacturing the highest quality truck accessories from the best known materials. Stampede Automotive Accessories offers a full range of plastic accessory products for Cars, Light Trucks, Crossovers, SUV's and Vans. These include Hood Protectors (Bug Shields), Sidewind Deflectors, Sunroof Deflectors, Fender Flares, Bed Rail Caps.
Thule was established in Sweden in 1942. They are an international group united by their passion for helping active families and outdoor enthusiasts. Thule helps you transport anything you care for safely, easily, and in style so you are free to live your active life.
Since the introduction of the Original TruXedo in 2000, TruXedo, Inc. has led the industry with new and innovative tonneau cover concepts that emphasize style, quality, durability and functionality. The TruXedo staff shares your passion for automotive customizing, which allows us to continue to expand and diversify our product line to meet your needs.
Undercover's goal is to build a company that sets the standard for high product quality, value and superior customer service. They pursue those goals every day, and are committed to earning the trust and confidence of customers.
WEATHER GUARD started in the fall of 1960 building jobsite storage tool boxes in a small, one-room shop in Illinois. The main outlet for these boxes was a tool supply distributor. It wasn't long before WEATHER GUARD expanded their product offerings and recognized the need for a high-quality truck tool box. WEATHER GUARD tool boxes were designed with features needed by the contractor markets that they serve. 
Since 1989, WeatherTech has been providing the best in automotive protection and vehicle accessories. Our WeatherTech brand has been servicing the world with top-of-the-line vehicle protection, continually exceeding expectations and setting the industry bar that much higher. WeatherTech has long been recognized by the discerning automotive enthusiast as a supplier of accessories of unparalleled quality. 
Since 1977, Westin Automotive has provided world-class products to the automotive aftermarket industry. Westin has become a household name in innovative products that are built on the philosophy that a product should fit, function, look good, and last. It is Westin's signature of quality that their products not only provide function, but to do it under the highest level of aesthetically pleasing conditions.